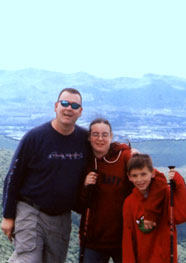 With the exception of a couple of trips to see "Mickey" and of course, the essential three week road trip out West (which I will elaborate more on in a separate post), Wendy & I have been packing up the kids and heading north to Vermont almost every Summer since they were little.


I get asked quite a bit why we frequently take summer vacations in Vermont, so I thought I would share a few reasons why.

1) It's hard to beat Vermont mountain weather in the summer. We have traveled as early as the 3rd week of June, and as late as the 4th week in August, and have found the weather to be fantastic. Sure, there is always the chance of a day or two of rain, but for a shot at beating the city heat and humidity, it's a no-brainer. Here we are a few summers ago at the top of Killington Peak doing just that. It was about 60 degrees on top that day. In July!

2) There are almost to many activities to choose from, and the nice thing is you can be as active or sedentary as you want to be. We've had times when all we wanted to do was lay around our lakefront cabin on Lake Hortonia in Hubbardton and immerse ourselves in a good book. Other summer weeks have found us at Killington and Pico doing some hiking, mountain biking, riding alpine slide and water slides. A camping trip on the White River, featuring campfires, tubing, and marauding raccoons is my kids' favorite memory.

Also, I usually manage to sneak the golf clubs and/or fishing rods in the back of the van, as there are endless golfing and fishing opportunities available throughout Vermont in the summer. I especially recommend the Green Mountain National golf course, and fishing on Lakes Bomoseen, St. Catherine, and Hortonia. If you are into bass fishing, as I am, these Vermont lakes get very little fishing pressure, and the bites are frequent and fun. This is especially nice when you have young kids that you may be introducing to fishing.

3) Speaking of little ones, you can find plenty of things to keep their imaginations engaged. We found when our brood were small, that they particularly enjoyed day trips to places like Ben & Jerry's, the New England Maple Museum, Vermont Teddy Bear Factory and Story Land (I know, this one is in New Hampshire, but well worth the drive).

4) Not to be overlooked is how genuinely friendly the people are. Tourism is a pretty big deal in Vermont these days, and not just during ski season. Folks seem to appreciate that you have chosen to spend your hard-earned time off in their verdant corner of the country. From giving directions to recommending a restaurant to giving a bit of local history, Vermonters are eager to please.

5) Your choice of lodging options is pretty much unlimited. From cozy inns (straight out of Newhart), to luxury hotels and spas, to remote backcountry cabins, to well-appointed condos, the choice is yours and there is something to fit every budget. If you are planning a summer vacation in Vermont around a family reunion, there are even large individual homes and farms for rent that can accommodate 20-50 people.

I think that's a pretty good list of reasons to give Vermont a try this summer. I'll be happy to field any questions anyone may have regarding logistics, scenic driving routes, and where to stay and what to do. Just ask!

And yes, for the record I do believe Champ is real. Haven't seen him yet, but we'll take another look when we are up on Lake Champlain this summer!